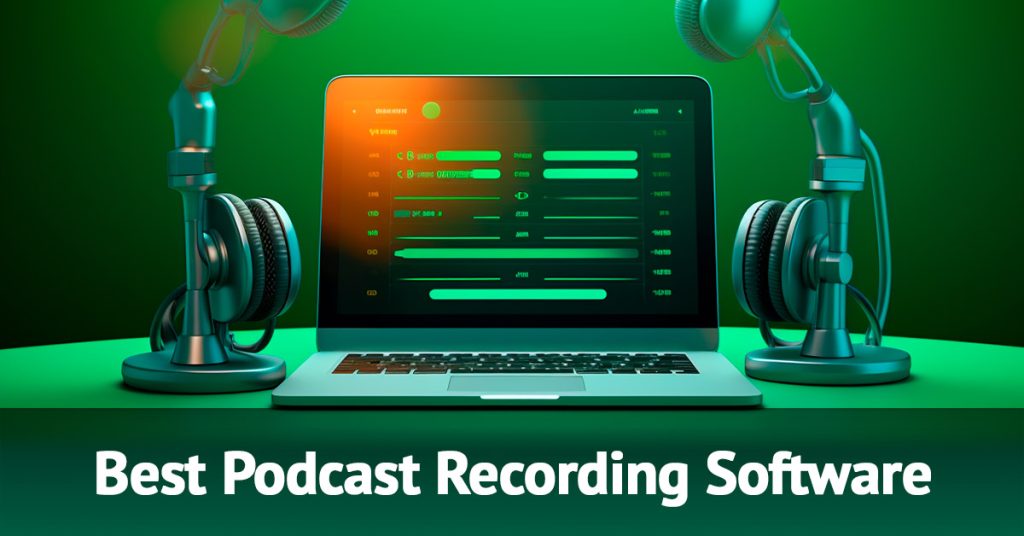 Podcasting has gained tremendous popularity in the digital content creation realm. The rise of this medium has spurred the development of specialized podcasting software, each boasting unique features.
Selecting the right software can significantly influence your podcast quality and audience size. Whether you're a beginner or a professional, it's crucial to find software that caters to your needs.
This article will review the best podcasting software available, aiming to guide you through the myriad options and direct you towards the ideal choice for your podcasting journey.
Music sets the tone for podcasts, enhancing engagement and listener immersion. Find the perfect music for your podcast at Melody Loops. Buy now to elevate your content to the next level!
Best Podcast Software
1. Restream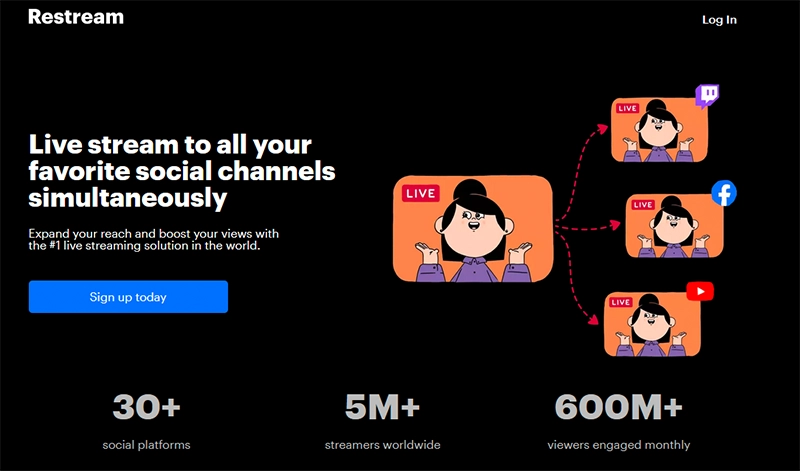 Beginning our software reviews is Restream, a multifaceted tool that's perfect for podcasters looking to take advantage of livestreaming.
Restream caters to both the beginners and professional podcasters with its easy to use interface and wide range of features.
If you're seeking a versatile podcast recording software that allows for live streaming across multiple platforms simultaneously, Restream might be the ideal fit.
Features
Restream stands out with its ability to livestream your podcast across 30+ platforms simultaneously, including Facebook, YouTube, and Twitch. This extends your reach, making your podcast accessible to a wider audience.
This software isn't limited to just live streaming. It also includes a recording feature, allowing you to capture your audio files for editing and posting later.
You can also upload pre-recorded content, offering flexibility for your podcasting needs.
Performance
As a web-based platform, Restream eliminates the need for any complex installation procedures. Its easy-to-navigate interface and user-friendly design make it accessible for even the most tech-challenged individuals.
While it may not offer advanced audio software capabilities, the simple recording and editing tools are sufficient for basic podcasting needs.
However, for more complex editing, you may need to use supplementary editing software.
Pros
Livestreaming across 30+ platforms simultaneously
User-friendly design and easy navigation
Allows for pre-recorded content upload
Web-based, no installation required
Cons
Limited audio editing capabilities
Recorded audio files may need further editing using other software
In the realm of podcast recording software, Restream carves its niche with live streaming capabilities. Its ability to broadcast across multiple platforms at once, coupled with its user-friendly design, makes it a go-to choice for many podcasters.
While its audio editing tools may be limited, its versatility and easy-to-use nature make it a strong contender for one of the best podcast recording software options on the market.
If live streaming forms a part of your podcasting strategy, Restream is certainly worth considering.
2. Waveroom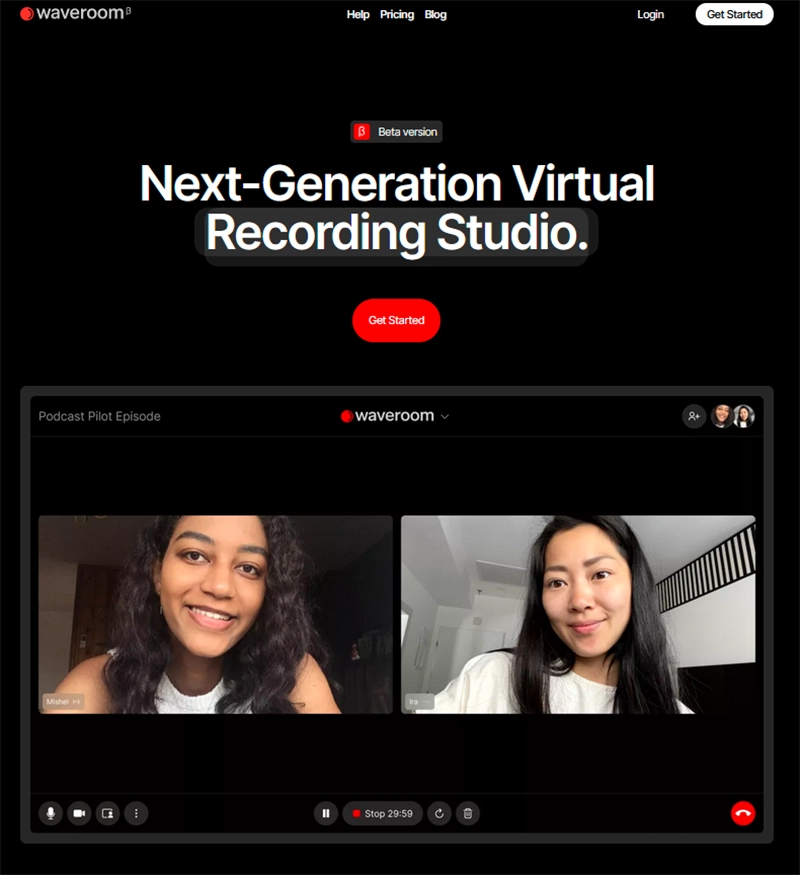 Our next software review introduces Waveroom, a modern application designed with the podcaster's needs at the heart of its functionality.
Geared towards creating professional-level podcasting with the least amount of effort, Waveroom is all about streaming the podcast recording and editing process.
Features
Waveroom stands out with its automated transcriptions and captions feature. It transcribes your podcast and generates captions in real time, adding a layer of accessibility for those who may prefer or need text-based content.
It recognizes multiple speakers, making it an excellent choice for interview-style podcasts.
In terms of audio files, Waveroom supports multiple file formats, giving you flexibility in how you wish to save and distribute your podcast.
This recording software also offer tools for recording directly into the app, cutting out the need for any external recording software.
Performance
Waveroom's primary strength lies in its focus on simplicity. The app's layout is intuitive, making recording and editing a breeze even for beginners. While it may not offer the detailed control of a full-fledged digital audio workstation, it does an impressive job of balancing ease of use with a decent set of tools.
The quality of the automated transcriptions is generally good, although it may occasionally misinterpret words in heavily accented speech or in noisy environments.
Pros
Real-time transcriptions and captions
Intuitive and easy-to-use layout
In-app recording capabilities
Supports multiple file formats
Cons
Automated transcriptions might be inaccurate with heavily accented speech or background noise
Limited advanced editing capabilities
In the realm of podcasting software, Waveroom provides an excellent blend of simplicity and functionality.
The standout feature of real-time transcriptions can be a game changer for many podcasters, adding an extra layer of accessibility to their content. While it may lack some of the more advanced features of comprehensive audio editing software, it makes up for it with its user-friendly design and intuitive layout.
For those seeking a balance between ease of use and capability, Waveroom is definitely worth considering.
3. Adobe Audition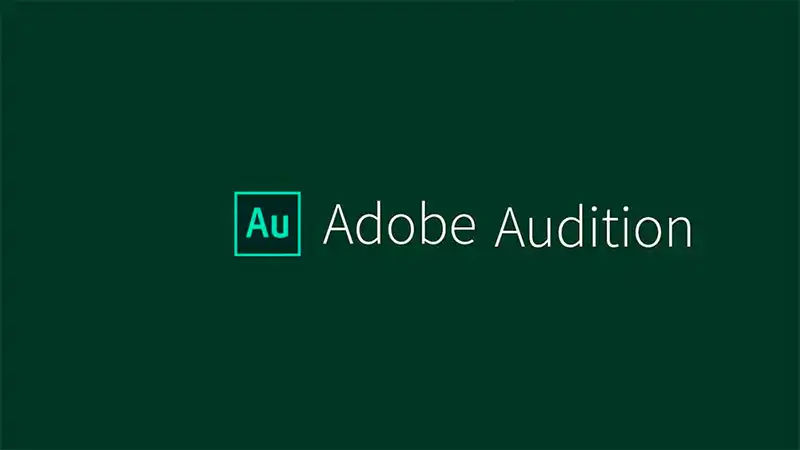 If you're serious about your podcasting game, Adobe audition should be on your list. This powerful podcast recording software is trusted by professional podcasters and audio engineers around the world. Available for both Mac and Windows.
Features
Adobe Audition is a comprehensive digital audio workstation boasting a plethora of tools that handle audio recording, editing, mixing, and mastering.
With its multitrack recording capabilities, you can record on separate tracks for easy editing and superior sound organization. It's perfect for remote interviews and multi-person podcasts.
The software comes with an extensive library of sound effects, which you can use to enhance your podcast episodes, adding more life and dynamics to your content.
Performance
Adobe audition offers high-quality audio and extensive editing tools.
The learning curve may be steep compared to simpler podcast editing software, but it provides the advanced features you need for top tier podcast production.
With it, you can manipulate audio quality, clean up background noise, and ensure your podcast has a polished, professional sound.
Pros
Comprehensive, professional-grade audio editing software
Multitrack recording capabilities
Extensive library of sound effects
Offers advanced features for audio manipulation
Cons
Steeper learning curve for beginners
No free version available
Adobe audition truly stands out among other podcast recording software options.
While it's not a free podcast software, the quality of its features and the versatility it offers make it well worth the investment for serious podcasters.
If you're ready to take your podcast to the next level with professional editing features and recording audio capabilities, Adobe Audition is a top contender to consider.
4. Auphonic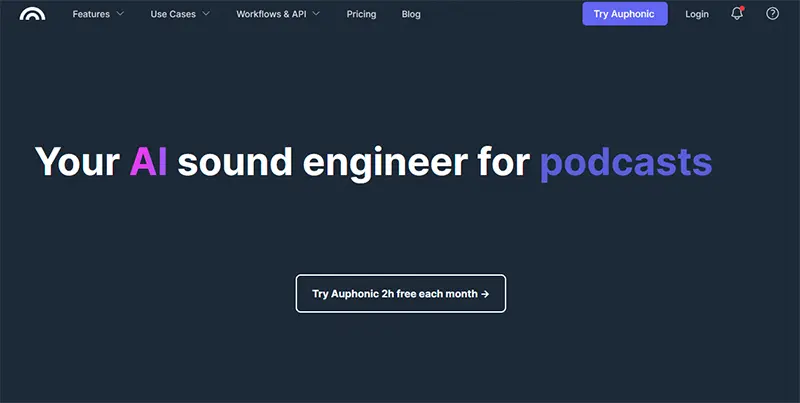 For podcasters looking to streamline their post production process, Auphonic is a tool that shines with its intelligent and automated audio optimization features.
Features
Auphonic is a unique piece of podcast recording software that focuses primarily on the post-production side. The software's automated algorithms can manage and adjust audio quality through tasks like leveling, noise reduction, and encoding, ultimately creating a balanced and professional sounding podcast.
Additionally, Auphonic supports a wide range of file formats, making it a flexible tool in any podcasting software toolkit.
This feature simplifies the process of uploading your podcast to different platforms.
Performance
The most significant advantage of Auphonic is its automated features, which can save podcasters a significant amount of time in post-production.
The software analyses and adjusts the audio levels between speakers, music, and other sound elements to ensure consistency in audio quality throughout each episode.
Pros
Intelligent, automated post production features
Simplifies the process of audio optimization
Supports a wide range of formats for your files
Saves a considerable amount of editing time
Cons
Lacks comprehensive recording and editing tools
Limited functionality beyond audio optimization
auphonic serves as a valuable tool for podcasters, particularly those seeking to automate and streamline their post-production process.
Although it may lack some of the recording and editing capabilities found in other podcast software, the automated optimization it offers can significantly enhance the overall audio quality of your podcast.
5. Logic Pro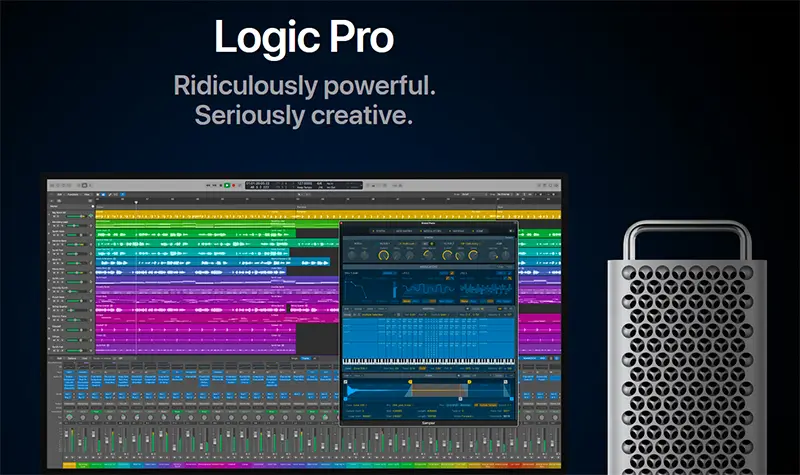 For podcasters seeking a professional grade recording software with a robust set of features, Logic Pro offers an exceptional and comprehensive solution. Mac only, no Windows version.
Features
Logic Pro is a digital audio workstation designed by Apple. It comes packed with an array of sophisticated editing tools and advanced features that make it one of the best options for podcast production.
It supports a wide range of audio file formats and includes capabilities for multitrack recording and editing, making it versatile and adaptable to various podcasting needs.
Notably, Logic Pro excels in music production, offering a massive library of loops, instruments, and effects.
This feature is particularly useful for podcasters looking to create or incorporate original music into their content.
Performance
As a professional-grade software, Logic Pro offers outstanding performance. The audio recording quality is top-notch, and the extensive suite of editing tools provides unparalleled control over the final podcast product.
The software's robust capabilities do, however, come with a steep learning curve that may be challenging for beginners.
Pros
Professional grade recording and editing software
Comprehensive suite of advanced features and tools
Supports a wide range of audio formats
Excels in music production
Cons
Steep learning curve for beginners
Higher price point compared to other podcasting software
Despite its complexity, Logic Pro's comprehensive features and professional grade capabilities make it an excellent choice for serious podcasters.
Its robust set of editing tools and high quality audio recording abilities position it as a top contender in the realm of podcast recording software.
6. Podbean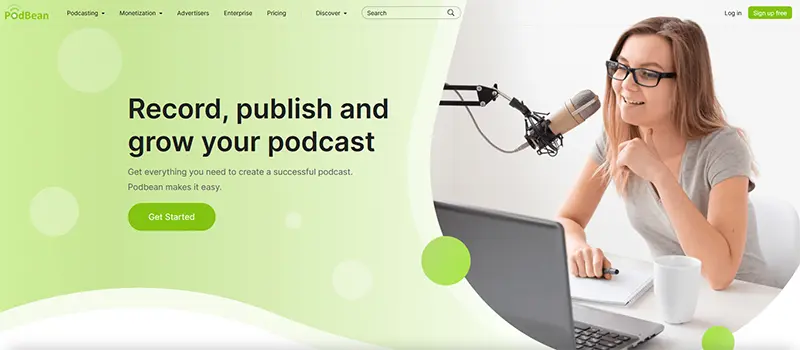 If you are seeking an all in one podcast solution, look no further than Podbean.
This podcast hosting platform provides a suite of service, including a podcast recorder and editing options.
Features
Podbean is a comprehensive tool designed to streamline the podcasting process. One of its key selling points is the integrated podcast recorder, which allows you to record live audio and import audio clips from different sources.
The software supports different file formats, including both audio and video files, enhancing the versatility of your podcast content.
Plus, it comes with a set of basic features that ease the process of podcast creation, from recording to publishing.
Podbean also shines as a hosting platform. After recording and editing your podcast episode, you can directly publish it on Podbean's platform, providing a seamless workflow.
Performance
In terms of performance, Podbean delivers professional quality audio. Its audio editor offers features such as multi track recording, noise reduction, and audio mixing.
While it may not have as extensive a toolkit as specialized editing software options, it covers the basics pretty well.
Pros
Comprehensive all-in-one podcasting solution
Integrated podcast recorder and editor
Supports a wide range of file formats
Direct podcast hosting platform
Cons
Editing capabilities not as advanced as dedicated software
Free version is limited in features
Overall, Podbean provides a comprehensive podcasting solution that integrates recording, editing, and hosting into one platform.
It's a good podcast recording software that, while not as advanced as some dedicated editing software, still provides a solid set of features for creating quality audio content.
7. GarageBand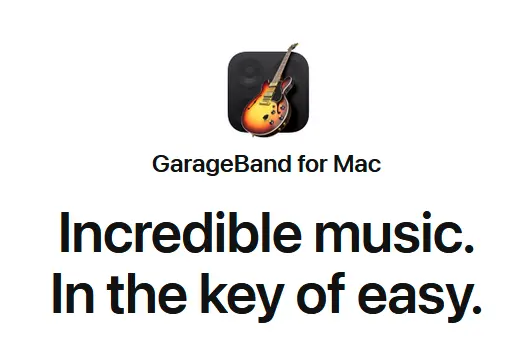 When discussing beginner-friendly, feature-rich, and cost-effective podcasting software, GarageBand often takes the spotlight.
A household name for anyone stepping into the world of audio creation, this software delivers a potent mix of simplicity and functionality that suits various podcasting needs.
Features
Garage Band presents a broad array of features designed to help you create polished podcast episodes. This software's split track recording capability enables you to manage multiple audio sources independently, offering a significant degree of control over your podcast's final output.
You can layer, blend, and mix audio to create an immersive audio experience for your listeners.
One key aspect setting GarageBand apart is its compatibility with the Logic Remote App. This feature allows for remote recording, a particularly valuable asset in today's increasingly virtual environment. You can record, control, and edit your audio remotely, providing the flexibility to create podcasts from virtually anywhere.
GarageBand also excels in providing all the basic features you'd need for podcasting, including robust editing tools to fine tune your audio recordings.
Whether you need to trim excess sound, amplify audio, or implement a fade out effect, GarageBand has you covered.
Performance
GarageBand's performance speaks volumes about its potential as a podcasting tool. Its user-friendly interface makes it easy even for beginners to navigate through its features and understand its functions.
The audio quality output of GarageBand is admirable, especially considering its price tag – it's absolutely free.
Pros
Robust, user-friendly interface
Comprehensive suite of editing tools
Allows remote recording via the Logic Remote App
Absolutely free, offering great value for beginners
Cons
Limited advanced features compared to professional grade software
Only available for Apple devices, limiting accessibility
Despite these limitations, GarageBand remains a popular choice, particularly among budding podcasters. Its easy-to-use interface and comprehensive suite of features provide everything you need to create compelling podcast episodes.
Plus, the fact that it's absolutely free makes it an attractive choice for those just starting out in the podcasting world.
From recording music to creating in depth podcast episodes, GarageBand is a versatile software that caters to a variety of audio creation needs.
Its mix of basic and advanced features, coupled with the ability to record remotely, makes it a worthy addition to any podcaster's toolkit.
8. Audacity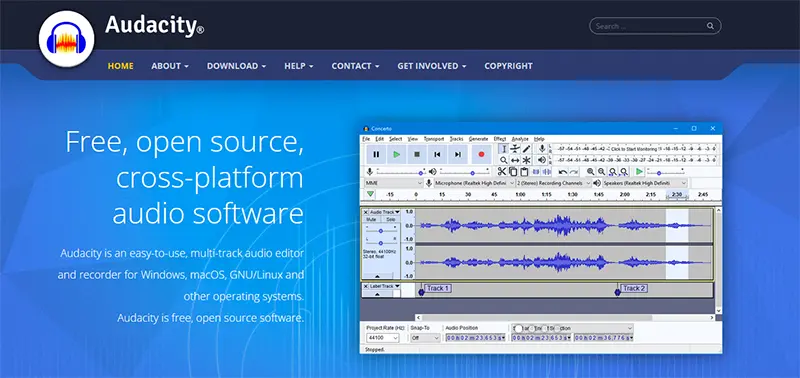 Audacity is a podcasting powerhouse that's been around for quite some time and has earned itself a solid reputation in the realm of audio recording and editing.
As a free, open-source software, Audacity's robust feature set and flexible interface make it an ideal choice for podcasters across the spectrum, from beginners to seasoned professionals. Available for both Mac and Windows.
Features
Audacity provides users with an array of tools designed for detailed audio manipulation. Its multi track editing and mixing allow you to layer and blend your audio files to achieve the sound quality and depth you're looking for.
You can record live audio, edit and mix different tracks, and fine tune the output with a wide range of effects and plugins.
A standout feature of Audacity is its extensive file format support. Unlike some other software that might limit you to specific file types, Audacity allows you to import, edit, and export a broad variety of file formats.
Whether you're working with uncompressed WAV files for optimal quality of your audio or compressed MP3 files for easier sharing and uploading, Audacity has you covered.
Performance
Audacity's performance is where this software truly shines.
It offers high quality audio output and reliable, efficient performance, making it an excellent tool for podcasting.
The software is known for its stability, so crashes and software related disruptions are rare. This allows you to focus on creating your podcast content without worrying about technical glitches.
Pros
Open-source and completely free of cost
Provides a comprehensive set of recording and editing tools
Supports a broad range of file formats
Reliable performance and stability
Cons
The user interface may appear dated and somewhat intimidating for beginners
Lacks integrated hosting or publishing features, so you'll need to pair it with another service for podcast distribution
Despite these drawbacks, Audacity's strength lies in its powerful, versatile feature set that can accommodate a broad range of podcasting needs.
Its open-source nature and the fact that it's free of charge adds to its appeal, especially for those working with tight budgets.
Audacity may not have the most modern interface, but the functionality and control it offers over your audio editing process make it a potent tool in any podcaster's arsenal.
Whether you're just dipping your toes into the podcasting waters or you're an experienced podcaster looking for a reliable, feature-rich recording and editing tool, Audacity is certainly worth considering.
9. Podcastle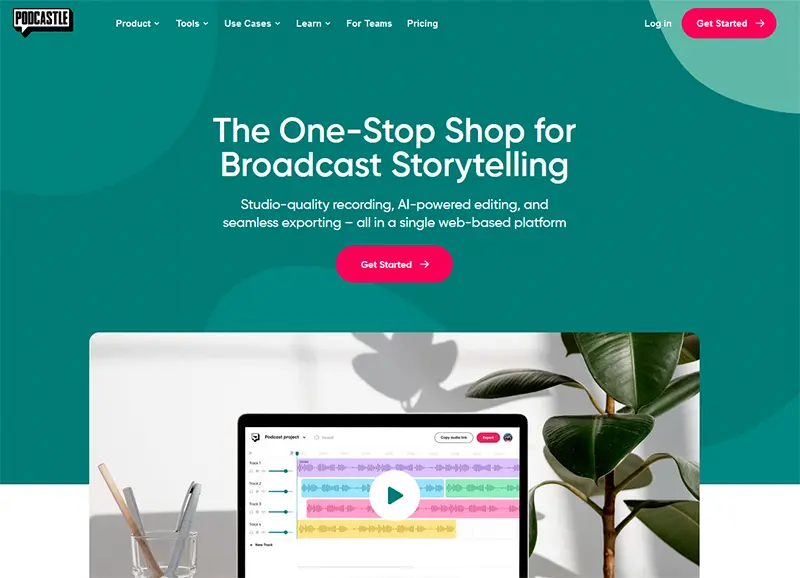 Podcastle is a relative newcomer in the podcasting software arena, but it's making waves with its unique take on podcast production.
Rather than just providing a suite of recording and editing tools, Podcastle is designed to help users create, distribute, and monetize their podcasts from a single platform.
Features
Podcastle is not just about recording and editing, it's a comprehensive podcasting solution.
The platform enables users to record, edit, and even transcribe their podcast episodes.
Podcastle's transcription feature is one of its standout offerings, transforming audio content into written text and vice versa.
The recording feature of Podcastle allows users to record high quality podcasts with little to no setup required.
Podcastle's built-in editing tools are also quite robust, offering everything from basic trimming to more advanced audio effects. The software provides a clean, intuitive interface that makes it easy for beginners to navigate.
Performance
Podcastle delivers a strong performance, with high quality audio recording and seamless editing capabilities.
Users report a pleasant user experience with minimal issues or glitches.
The platform's cloud-based nature means that your work is saved and can be accessed from anywhere, which is a massive plus for podcasters on the go.
Pros
Enables users to record, edit, and transcribe podcasts from one platform
Offers cloud-based accessibility, meaning you can access your work from anywhere
Clean, user friendly interface that's easy to navigate
Built in transcription feature that transcribes audio content into text and vice versa
Cons
Does not provide advanced editing features compared to other podcast software
Some users have reported occasional delays with the transcription feature
In summary, Podcastle's comprehensive suite of tools and features makes it an exciting option for podcasters of all levels.
While it may lack some advanced editing capabilities, its unique selling points, like the transcription feature and cloud based access, make it a strong contender in the podcasting software market.
It's an excellent choice for podcasters seeking a user-friendly, all-in-one platform for creating, editing, and sharing their podcast content.
Its strong performance, combined with its modern, intuitive design, ensures a seamless and enjoyable podcasting experience.
Whether you're a seasoned podcaster or a newcomer to the scene, Podcastle deserves serious consideration.
10. Riverside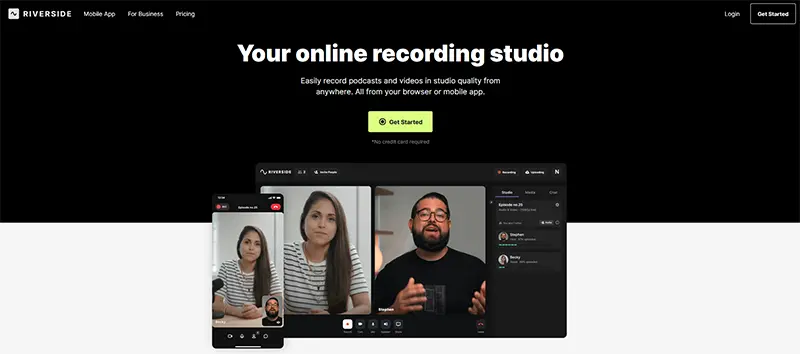 When it comes to podcasting, there's more to the equation than just recording audio. Podcasters need to consider elements like audio quality, the ability to record video via your podcast camera, and how easily they can edit their work.
Riverside addresses all these elements and more, providing a comprehensive podcast recording software that's designed to meet the needs of modern podcasters.
Features
Riverside provides podcasters with a suite of tools designed to ensure the creation of high quality podcasts.
Its recording software provides options for both audio and video recording, which is becoming increasingly popular in podcasting.
Podcasters can record video in 4k
and audio in uncompressed wav format, ensuring the highest quality of both.
The editing software within Riverside is intuitive and easy to use, even for those with limited experience in editing. It provides tools for trimming and adjusting audio levels, adding intro music, and even enhancing audio quality.
Performance
Riverside's performance is often praised, particularly for its excellent audio quality.
The platform provides an intuitive user interface and is designed to ensure a seamless podcast recording and editing process.
Riverside also provides automatic backup, so you don't have to worry about losing your work.
Pros
High-quality audio and video recording
Easy-to-use, intuitive editing software
Automatic backups to prevent data loss
Offers tools for both audio and video podcast recording
Cons
It's not free, unlike some other podcast recording software
Some users have reported occasional technical glitches
Riverside offers a comprehensive suite of tools for podcasters, making it one of the best podcast recording software on the market today.
It's designed to meet the needs of today's podcasters, providing tools for audio and video recording, intuitive editing software, and features to ensure high-quality output.
While it does come with a price tag, the features and capabilities that Riverside offers make it a worthwhile investment for serious podcasters.
The platform's focus on quality and ease of use make it a great choice for both beginners and experienced podcasters. If you're in the market for reliable podcast recording software that doesn't skimp on features, Riverside is worth a look.
11. Reaper
Whether you're an aspiring podcaster or a seasoned professional, you need a reliable tool to create and edit your content.
Reaper emerges as an exceptional solution in the realm of podcast recording software. Renowned for its powerful features and versatile performance, it has grown in popularity among the podcasting community.
Features
At its core, Reaper offers robust recording software capabilities, which are easy to navigate even for beginners. This software is equipped with a comprehensive set of editing software tools that makes tasks like cutting, pasting, fading and pitch shifting audio incredibly straightforward.
Moreover, Reaper stands out for its ability to handle multitrack recording efficiently. This is a significant asset for podcasters aiming to produce complex episodes involving multiple audio sources.
Performance
Users frequently laud Reaper for its superior performance. It runs smoothly on most systems, and its streamlined interface allows for a smooth podcast recording experience.
Besides, the software's stability ensures that you don't lose your work due to unexpected crashes.
Pros
Extensive editing and recording capabilities.
Excellent multitrack recording management.
Stable performance, reducing risk of work loss.
Cost-effective compared to many professional-grade software.
Cons
While powerful, the vast range of features can be overwhelming for beginners.
There is no free version
Reaper is a valuable tool in the podcasting world, recognized for its vast capabilities and reliable performance. Though it may seem complex to new users, the learning curve is well worth navigating for the advanced features on offer.
Whether you're dipping your toes into podcasting or are a seasoned pro, Reaper promises a seamless and efficient podcast creation process.
12. Zencastr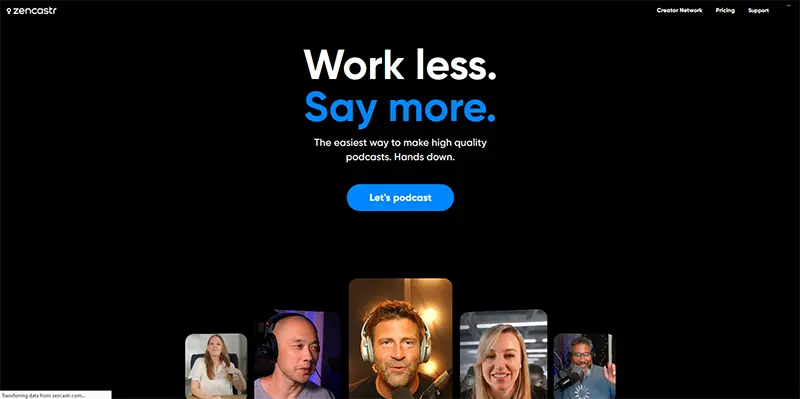 Podcasters looking for a user friendly, feature rich podcast recording software should consider Zencastr.
It stands as a favorite choice among podcast creators for its intuitive interface, combined with its array of advanced tools.
Features
Zencastr offers an outstanding recording software platform, that does not require any software download or setup. You simply send a link to your guests and they can join from their web browsers.
One of Zencastr's unique features is the ability to record each guest's audio locally. This means even if there's a poor internet connection, the audio quality remains high.
The platform also comes equipped with built in editing software. Users can mix their audio, add intros and outros, or adjust volumes easily.
The software's VoIP video functionality facilitates easy visual communication during the recording process.
Performance
When it comes to performance, Zencastr delivers on its promise.
The platform provides a smooth and efficient podcast recording experience, free from technical hitches. The audio quality is consistently excellent, and the platform's intuitive interface makes it a pleasure to use.
Pros
Offers high-quality, local recording of each guest.
No software downloads or setup needed.
Built-in editing tools and video functionality.
Intuitive and user-friendly interface.
Cons
There's a limit to number of guests and recording length in the free version
Advanced features are only available in the paid plans
If you're on the hunt for the best podcast recording software that offers an easy-to-use platform with high-quality audio recording, Zencastr is an excellent choice.
Though it does offer a free version, podcasters who want to benefit from its advanced features should consider one of the paid plans. Its unique feature of local recording and built-in editing tools makes it a worthwhile investment for any podcaster.
13. Anchor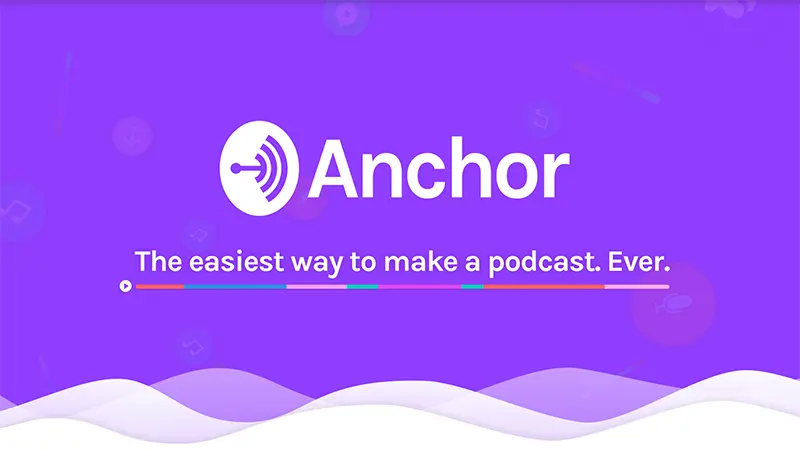 Anchor from Spotify is a podcast platform that offers an all in one service. From recording software to hosting and distribution, Anchor provides a simplified, comprehensive solution for podcasters of all experience levels.
Features
Anchor stands out with its simplicity and accessibility, offering a platform that allows users to record, edit, distribute, and monetize their podcasts all from one place.
The recording software supports remote recording, allowing podcasters to connect with guests no matter where they are.
Additionally, Anchor has user friendly editing software, enabling podcasters to trim and split audio, adjust volumes, and add transitions or background music.
Users also have access to an extensive library of free music and sound effects.
Performance
Anchor is lauded for its ease of use. The platform performs well in terms of stability and reliability.
Podcasters appreciate the simplicity of the workflow, allowing them to focus on content creation rather than technical aspects.
Pros
Offers an all-in-one platform for recording, editing, and distributing podcasts.
Easy to use and accessible for beginners.
Offers monetization options for podcasts.
Provides an extensive library of free music and sound effects.
Cons
Limited advanced editing features compared to some other platforms
Audio quality may not be as high as with some specialized recording software
Anchor is an excellent tool for those looking to simplify their podcasting process.
While it may not offer the advanced editing features of some specialized software, its ease of use, combined with the all-in-one platform for recording, editing, and distributing podcasts, makes it a practical option.
Especially for those starting out or those who prefer a straightforward, fuss-free approach to podcast creation, Anchor is a compelling choice.
Final Word
In the world of podcasting, the right software can make a world of difference. With this guide, you should now be better equipped to make an informed decision about the best podcasting software for you.
Remember, the perfect choice will depend on your specific needs and skill level. So, assess your requirements, evaluate your options, and embark on your podcasting journey with confidence and the right tools. Happy podcasting!