Is your current phone system giving you more headaches than help?
Does having dropped calls and subpar sound quality make you feel stuck in the Stone Age?
Well, it's time to modernize with a VoIP phone service provider.
With so many options out there, it can be tough to know which VoIP provider is the best fit for your business.
But worry not as I've done extensive research and compiled a list of the best VoIP phone service providers, ensuring you'll find the perfect fit for your business's communication needs.
My list includes providers that offer reliable service, various features, and cost-effective plans for businesses of all sizes. So say goodbye to outdated phone systems and hello to modern, efficient communication with VoIP phone service.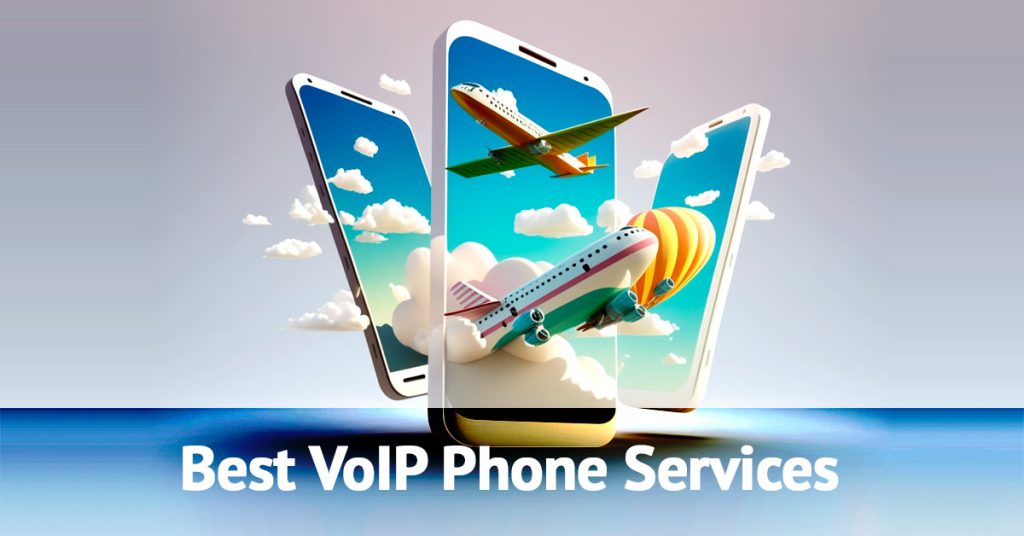 VoIP Phone Service Providers:
RingCentral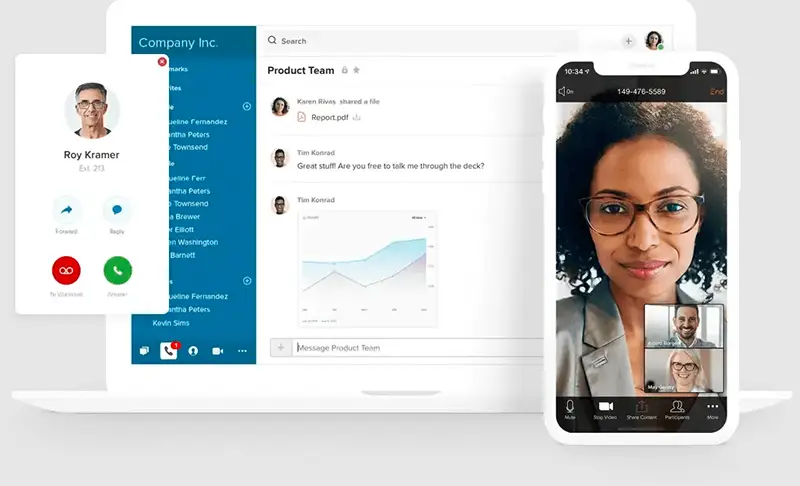 RingCentral is one of the leading VoIP service providers for medium or large businesses looking to upgrade their communication game.
With a user-friendly web portal that enables you to customize your settings and a wide range of features, including call forwarding, call waiting, and call blocking, it helps you stay connected with your team and clients, regardless of where you are, as long as you have a reliable internet connection.
Plus, with 99.999% uptime, you can trust that your calls will always go through without a hitch. And if you're worried about quality, don't be – RingCentral's network of data centers ensures that your calls will be crystal clear no matter where you are.
RingCentral is a highly secure VoIP service that uses Secure Real-time Transport Protocol (SRTP) and Transport Layer Security (TLS) encryption to protect your calls from possible third-party intrusions.
Additionally, RingCentral's data centers undergo rigorous audits and comply with SSAE 18 and ISO 27001 standards, demonstrating its commitment to security and data protection.
But it's not just about the calls – RingCentral also offers team messaging and collaboration, video conferencing, and virtual meetings to keep your team connected and productive.
There are four business service tiers: Standard, Essentials, Premium, and Platinum.
And with plans starting at just $19.99 for an annual plan per user per month, it's a no-brainer for businesses.
Moreover, you get a 14-day trial to try out their services and decide for yourself.
Sure, you might find a cheaper option out there, but with RingCentral, you get what you pay for – and trust me, it's worth every penny.
Pros
Ideal for employees working in-office, mobile, or remote
Reliable call quality
Easy-to-use interface
Add an unlimited number of users
Secure global PBX services in over 40 countries
Unlimited calls for all plans (within the U.S. and Canada)
Free trial
Cons
No integration of popular apps or video conferencing is available at the entry-level
Pricing can be expensive
Some users face difficulty with the initial setup process
Extra cost for international calling
No support available for the base plan
Ooma Office

Ooma Office is a VoIP service designed specifically for small and medium-sized businesses with tight budgets.
The service offers a range of features to improve communication and collaboration within the workplace, including cloud-based phone systems, video conferencing, and integration with popular CRM systems.
One of the standout features of Ooma Office is the ability to customize your communication settings through the online portal.
This includes setting up virtual extensions for employees, creating call routing rules, and configuring voicemail settings.
The service also has a range of features to enhance the call experience, such as call forwarding, call waiting, and call blocking.
One of the drawbacks of Ooma Office is that it doesn't offer as many advanced features as some of its competitors.
For example, it doesn't have a built-in CRM system. However, it does integrate with a number of popular business tools, such as Google Calendar and Salesforce, which can help make up for this lack of advanced features.
In terms of pricing, Ooma Office offers a range of plans to suit different business needs, with prices starting at $19.95 per user per month.
This includes unlimited calling within the U.S. and Canada and a range of features such as team messaging and online meetings.
Higher-tier plans offer additional features such as toll-free numbers, advanced call routing, and integration with popular CRM systems.
Overall, Ooma Office is a solid choice for small and medium-sized businesses looking for quality VoIP phone service.
It offers a range of valuable features and has competitive pricing, making it a good value for the price. However, businesses that need more advanced features may want to consider a different option.
Pros
Flexible service without a fixed contract
Super easy to use
Supports analog phones
No installation is needed for the client during meetings
Can quickly adapt to any business style (Office, remote, mobile, etc.)
24/7 customer support
Cons
Some users may find the setup process confusing
Doesn't have too many integrated productivity features
Call quality is determined based only on user feedback
Limited message options
Nextiva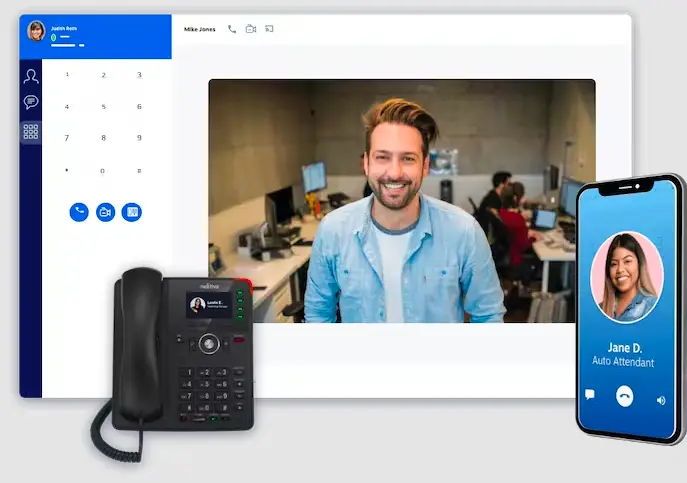 Nextiva is one of the top-rated providers of VoIP services for businesses of all sizes. Their comprehensive business communication service includes unlimited calling, texting, and internet faxing, as well as useful features such as audio conferencing, audio-attendant, and voicemail transcription.
Nextiva's VoIP system is cloud-based, which means that employees can use their phones from anywhere, without the need for a VPN. This makes it an ideal solution for businesses with multiple locations or employees who work remotely.
Nextiva's Business Communication Suite offers three plans to fit your business's needs and budget. The Essential plan starts at $18.95 per month, the Professional plan starts at $22.95 per month, and the Enterprise plan starts at $32.95 per month.
One of the best features of Nextiva is their Essential plan, which offers unlimited voice and video calling, as well as a free local and toll-free number and 1,500 toll-free minutes.
This is a great value compared to other entry-level plans on the market. Since there is no user cap, it means that businesses can offer unlimited voice and video to as many employees as they need, without having to upgrade.
Overall, Nextiva is a powerful and flexible VoIP service that is well-suited to businesses of all sizes, from small startups to large corporations. Whether you need to set up a contact center or outfit your entire office with modern communication technology, Nextiva has a solution that will meet your needs.
Pros
Stable call quality and service
Built-in CRM software
Highly customizable auto-attendant
Services designed for better scalability
Advanced call management
Helpful customer support
Cons
Interface can be confusing
Not the best mobile app (a lot of bugs)
Non-availability of in-depth integrations
8×8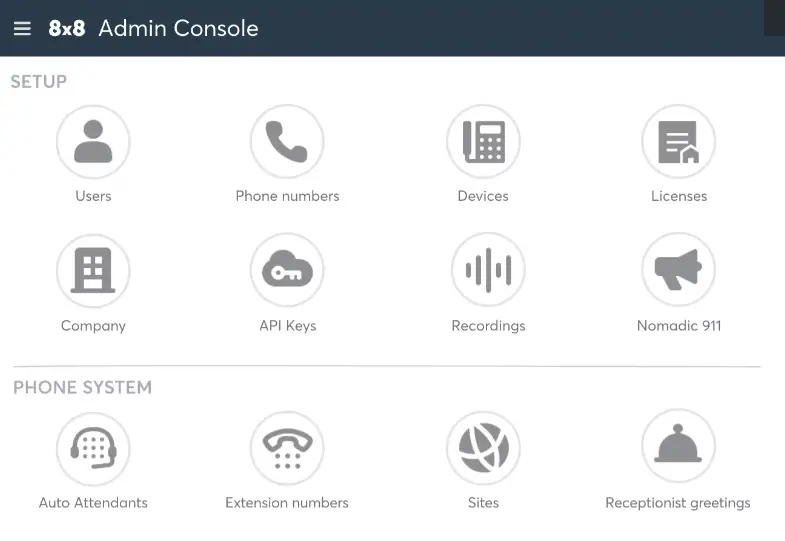 If you're searching for a VoIP phone service provider that's ready to take on the competition and meet the needs of small to midsize businesses, 8×8 may be the solution you've been searching for.
After all, this easy-to-use cloud-based phone system has it all (almost). With 8×8, you can enjoy a seamless, cohesive communication experience without having to worry about juggling multiple systems or accounts.
Not only does 8×8 cover more countries for international calling and offer contact center capabilities, but it also includes unlimited calling within the U.S. and Canada, business SMS, HD video conferencing, and team chat.
But the convenience doesn't stop there. 8×8 Express comes pre-configured and can be set up in a flash, so you can start making and receiving calls in less than 5 minutes.
Plus, you'll get a dedicated phone number for your business with your preferred area code and features like a business schedule, voice mail, an auto attendant, and intelligent call routing.
One of the standout features of 8×8 is the unified experience it provides for all your business calls and conferencing. In addition to reliability and advanced features, 8×8 also offers top-notch security to protect your business's communication.
With 8×8, you can feel confident knowing that your call data is secure and protected from potential threats.
8×8 offers competitive pricing, with some of the cheapest plans starting at $15 per user per month, appealing to organizations with budget constraints. Prices go up to $140 per user per month.
Pros
Offers pretty attractive features in the base offering
Affordable plans
Unlimited calls in the U.S. and Canada
Better mobile video
Easy setup and ease of use
Amazing cross-platform compatibility
Great call quality (99.999% uptime SLA)
Cons
Need to work a lot on customer support
Express plan offers a minimal reporting feature
Creating contacts can be complicated
Grasshopper
Grasshopper is the perfect solution for small to mid-sized businesses looking to project a professional image without the hassle and expense of a complex phone system.
Ideal for restaurants, dental clinics, startups, and even law firms, Grasshopper offers a suite of streamlined features specifically tailored for the needs of a modern business, without the unnecessary bloat for larger organizations.
Its feature-rich plans, mobile support, and affordable price point make it a strong contender in the market. Although it may not have the same level of recognition as other popular VoIP providers, it still offers valuable options for small firms.
One of the standout features of Grasshopper is its ease of setup, with a straightforward process for selecting plans, setting up numbers and extensions, and configuring the app.
Every Grasshopper plan comes with unlimited calling and every feature the company offers, such as personalized greetings, call routing, and more. And with the Small Business Plans, you'll even get additional features like call forwarding, call handling, voicemail transcription, and unlimited extensions.
Grasshopper offers a unique pricing structure for its VoIP plans, with three options available that vary in price and the number of phone numbers and extensions included.
Unlike many other VoIP providers, Grasshopper does not charge a per-user fee, making it an attractive choice for businesses experiencing growth or with fluctuating employees.
For instance, the Solo plan charges $29 per month for three extensions and one phone number. The Partner plan costs $49 monthly for six extensions and three numbers. Opting for the Small Business plan will cost $89 per month for unlimited extensions and five phone numbers.
Pros
A highly affordable option for small to mid-sized businesses
Super easy-to-use desktop and mobile apps
No hassle, straightforward setup
24/7 U.S.-based support
Voicemail transcriptions
Cons
Customer service is substandard
Lacks video conferencing feature
No CRM integration
Not ideal for larger business needs due to limited services
Vonage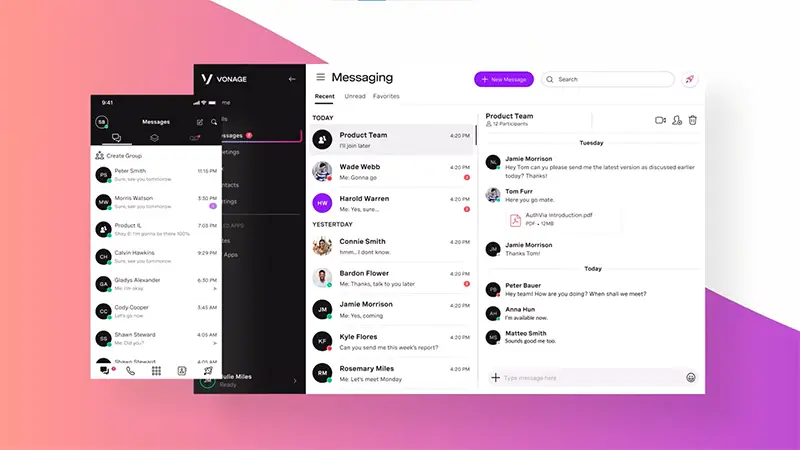 Vonage is a well-established player in the VoIP market, known for its high-quality call service and user-friendly setup. Many clients turn to Vonage because of its mobile apps, allowing users to make calls without consuming mobile minutes.
Although Vonage's pricing may be higher than some of its competitors (e.g. RingCentral), the superior call quality and comprehensive business plans make it a worthwhile investment for many organizations.
So if you're looking to up your business game, Vonage has got you covered with a vast array of call management and productivity tools.
Vonage Meetings, integrations with business software, call monitoring, call flip, call transfer, call waiting, caller ID block, and Vonage extensions are just the tip of the iceberg.
Plus, setup is a breeze, and it's easy to scale as your business grows. And the best part? No annual contracts, so you can cancel anytime.
You get three different plans for Unified Communications at various price points, starting at $19.99 per month for a single user. As more users are added, you get a reduction in prices. You also get custom pricing for plans with 100 or more users.
The Premium plan ($29.99 per month) gives you access to additional features such as a multi-level auto attendant and CRM integrations. The most expensive Advanced plan, starting at $39.99 per month, includes visual voicemail and call recording.
Pros
Can prove to be highly scalable
Easy to manage and implement
Preferably ideal for small to mid-sized businesses
User-friendly interface
Brilliant CMS integrations
Unlimited calling and texts
99.999% uptime
Cons
Customer support can be a hit-or-miss case
A bad reputation for add-on fees
Limited video conferencing features
No free trial
High pricing
Dialpad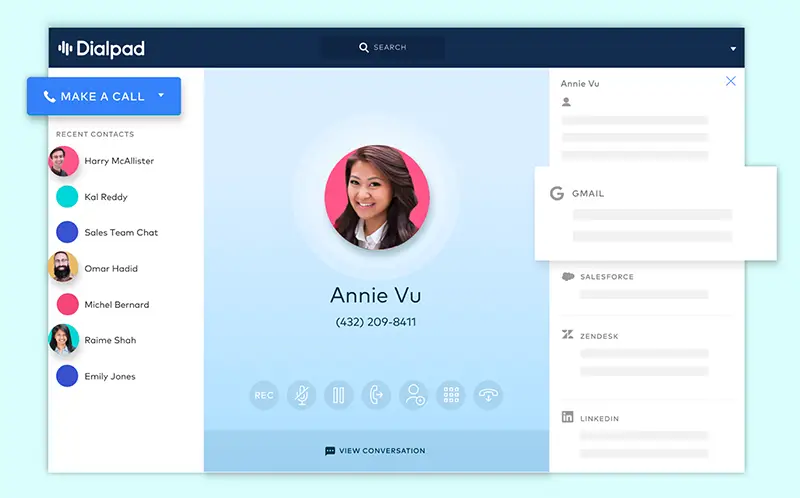 Dialpad's VoIP phone service can be better described as a user-friendly and feature-rich business phone system. It offers a wide range of functionalities while still being easy to use and navigate.
It ticks many boxes for businesses looking to streamline their operations with advanced technology.
Another aspect that makes it a lucrative solution for businesses is that it has further developed its AI-based voice transcription and smart alerting capabilities and expanded its integrations with other software.
Moreover, Dialpad's Voice Intelligence feature makes it a standout in the VoIP market, providing businesses with a straightforward and effective communication tool. It is no wonder that Dialpad is widely regarded as one of the best VoIP services available.
Dialpad offers a wide range of services bundled into three tiers, catering to various business needs. These services include video conferencing tools, virtual faxing, three-way calling, call forwarding, recording functionalities, and so much more.
With Dialpad, you can enjoy unlimited calling within the US and Canada, as well as unlimited SMS and MMS messaging and video calling. These features make it an attractive choice for businesses looking to streamline their communication processes.
In addition to its core services, Dialpad also offers several advanced features that enhance the user experience. For example, Call Flip allows you to continue a call on your smartphone, even after starting it on your laptop. This feature is mainly useful when you need to switch devices or are on the go.
Dialpad offers a tiered pricing structure for its VoIP phone service, with the option to pay annually or monthly. The basic Office plan starts at $15 per user per month when billed annually or $23 per month when billed monthly.
For additional features and support, the Pro tier is available at $25 per user per month when billed annually ($35 per month when billed monthly). This plan includes CRM integrations, 24/7 support, and local calling in 50+ countries, among other features.
Dialpad also offers an Enterprise tier, though pricing for this option is not disclosed. No matter which tier you choose, Dialpad has a plan that can accommodate your business's communication needs.
Pros
Excellent ease of use
Impressive support
Hassle-free setup
AI-based voice intelligence
100% uptime service
Smooth integrations with Microsoft Outlook, Google Workplace, and more
Impressive geographic call routing feature
Cons
Standard plan doesn't have 24/7 support
Ten participants limitation in video conferencing with the lowest-level plan
Analytics reports doesn't contain call quality information
GoTo Connect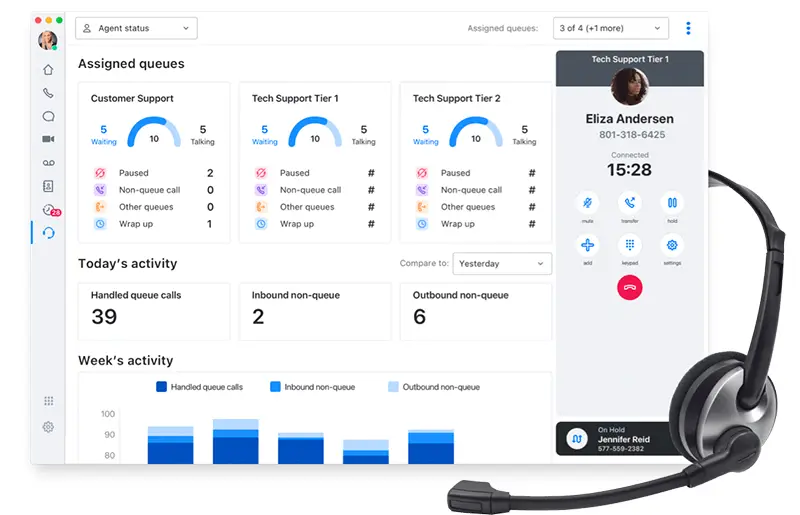 GoTo Connect is a VoIP provider that offers a wide range of business features, including collaboration, mobile tools, and video conferencing services.
Its features are designed to be user-friendly and easy to use, with a simple and intuitive dial plan editor that allows users to create custom call routing plans using drag-and-drop functionality.
This means that even those who are not technically savvy will be able to easily create and customize their call routing plans without the need for extensive training or technical expertise.
In addition to the general features like team-based call distribution, custom call routing, and time-based and relocation routing, GoTo Connect also offers customers access to personal meeting rooms, which can be used for one-on-one conversations or group meetings.
This is particularly useful for businesses that need to hold meetings with clients or colleagues who are located in different parts of the world, as it allows them to connect and collaborate in real-time, regardless of their physical location.
GoTo Connect's pricing plan is based on the number of employees a business has rather than the specific features it uses. Prices start at $29.95 per user per month for businesses with one to four employees and go down to $19.95 per user per month for businesses with 50 to 99 employees.
All pricing plans include access to most of GoTo Connect's tools and features, and custom plans are available for businesses with more than 100 employees.
This pricing model is different from most other VoIP service providers, which often charge extra for additional features.
Overall, GoTo Connect is a reliable and feature-rich VoIP provider that is well worth considering for businesses looking to improve their communication and collaboration capabilities.
It offers a wide range of features that are easy to use and understand and provides a high level of quality and reliability, making it a sure bet for businesses looking for a reliable VoIP provider.
Pros
Wide range of features
Delivers good value for the price
Good visual dial plan management
Impressive customer support
Hassle-free customization, add-ons, and integrations
Users get unlimited calling to 52 countries with the Standard and Premium plans
Cons
Some might find the setup process a bit intimidating
Sometimes the call may drop
Pricing may be higher for smaller businesses
No artificial intelligence tools
PhoneBurner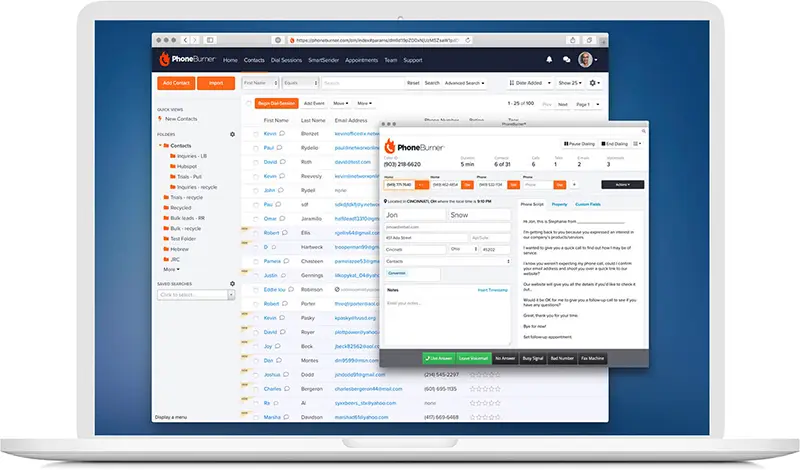 PhoneBurner is a powerful and innovative VoIP phone service provider that is perfect for sales teams looking to increase their productivity and close more deals.
With its cloud-based Power Dialer and Sales Acceleration platform, PhoneBurner empowers sales reps to have more live conversations in less time, making it the ultimate tool for prospecting, selling, and closing deals.
In addition to its core functionality as a sales engagement platform, PhoneBurner offers a range of features to assist sales teams streamline their processes and work more efficiently.
This includes workflow automation, lead distribution, remote dialing, and collaborative onboarding, among others.
One thing that sets PhoneBurner apart from other VoIP service providers is its use of both VOIP and copper wire technology. With its softphone, PhoneBurner offers high-quality VOIP connections for crystal clear audio, while its use of traditional copper wire technology ensures superior reliability and call quality.
This gives sales reps the best of both worlds, allowing them to choose the connection method that works best for them. Whether they prefer to use a landline, mobile phone, or softphone, PhoneBurner has them covered.
It's worth mentioning that a PhoneBurner subscription is not cheap. The pricing starts at $124 per user per month for the Standard plan, $149 per user per month for the Professional plan, and $166 per user monthly for the Premium plan.
Pros
Ease of use
Excellent customer support team
Easy to organize medium and high users
Effortless campaign management
Sales CRM dashboard
Detailed leads reporting
Good value for money
Cons
Integration problems (rare but they do happen)
System down issues (rare)
Pricing could get better
Zadarma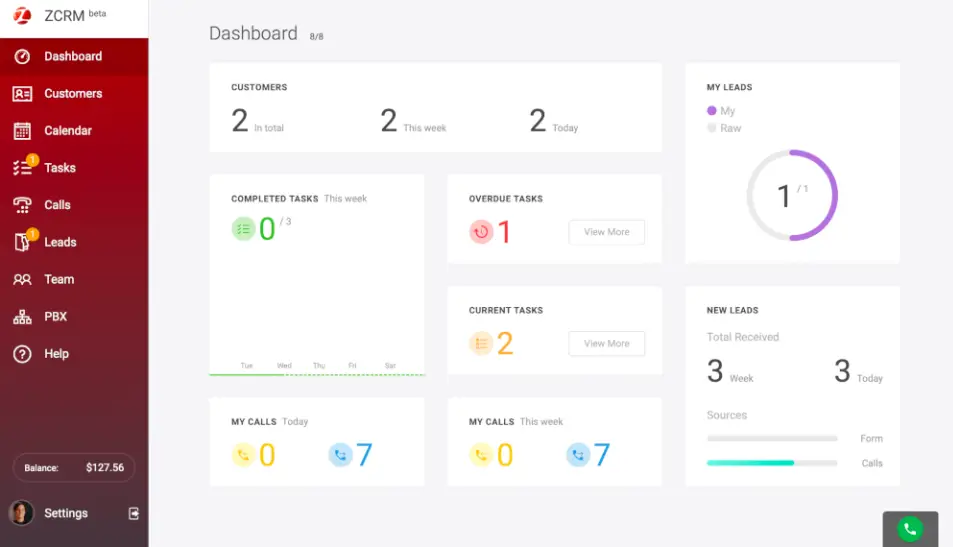 Zadarma offers a lot of what it takes to be a one-stop destination for all your business communication needs.
Whether you're a small startup or a large corporation, Zadarma has you covered with its cloud-based and on-premise solutions. With its cloud-based and on-premise solutions, it's a breeze to set up a professional phone system that streamlines communication processes like interactive voice responses, call answering, forwarding, and more.
With the ability to integrate with CRM systems, you can track and connect with customers from anywhere, at any time. In addition, with the added convenience of click-to-call functionality, you can easily set up one-click communication with clients.
With Zadarma, you'll get reliable and comprehensive communication solutions that will make your business operations easier. Plus, with 24/7 multichannel customer support and a commitment to continuous improvement, you can always count on top-notch service. And there's a lot the potential to save up to 90% on your home or business phone system, making Zadarma the smart choice for savvy customers worldwide.
Zadarma has a CRM system that is compatible with their PBX and provides a variety of automated capabilities, such as the generation of leads, the tracking of behavioral data, and the management of databases. The user interface is simple and straightforward, but the CRM is missing important functions such as interaction tracking, opportunity management, and campaign management at the moment. Those who are interested in integrating their CRM with Zadarma's PBX should think about giving it some thought.
The Zadarma Standard Plan is a free phone system for teams of up to four members. With this plan, you can call 18 countries (at $0.02 per min), 3 extensions with voice recording, 20 video conference participants, CRM, 24/7 customer support, and free integrations with Popular CRM systems.
The Office Plan is designed for teams of 2 to 6 members and costs $39 per month. This plan includes all of the features of the Standard Plan, as well as additional features such as unlimited calls to the US/Canada, 50 maximum users/devices (international lines), video conference with up to 50 participants, and a couple of free virtual phone numbers.
The Corporation Plan is designed for larger teams of 5 to 400 members, and costs $79 per month. But you can easily customize and expand it based on your needs.
Important Note: It's worth noting that Zadarma's pricing policy varies by country, as the company operates in numerous countries around the world. This means that the features and pricing for each plan may vary from country to country, so it's important to check with Zadarma directly for the most up-to-date information on pricing and features in your region.
All in all, Zadarma is a good VoIP phone service provider that offers many features for businesses looking for a stable and reliable virtual phone connection. It has a solid CRM platform, and the setup process is like a walk in the park. But most importantly, it is pretty affordable compared to others, especially when you look at the features it offers.
Pros
Offers a range of supported VoIP features
Quality and reliability
Ease of use
Excellent functionality
Affordability
Cons
Not many third-party integrations
Frequently Asked Questions
1. What is the most popular VoIP?
In terms of business VoIP services, some of the most popular providers include RingCentral, Nextiva, and GoTo Connect.
2. What are the 3 disadvantages of VoIP?
The three main disadvantages of VoIP are its reliance on a stable internet connection, potential quality issues, and security risks compared to traditional phone systems.
3. Is VoIP as good as a landline?
VoIP may be a better option than a traditional landline due to its cost-effectiveness, flexibility, additional features, scalability, and portability. It can be used on a variety of devices, offers virtual meetings and call forwarding, and can be easily scaled to meet the needs of a business.
Wrap up
There are several highly reputable VoIP business phone systems to choose from, including RingCentral, Nextiva, and GoTo Connect. These companies offer a range of plans to fit the needs and demands of businesses of all sizes and are known for their high-quality service and reliability.
Prices of VoIP providers vary, with RingCentral and Nextiva being more affordable for small businesses and Vonage being a good option for larger enterprises. At the end of the day, the best provider for your business will depend on your specific needs and budget.