Emailing, texting, and instant messaging might dominate our communication, but nothing beats old-fashioned phone calls. Did you know that 6 out of 10 modern consumers like to keep in touch with small businesses via phone?
Your phone is still a valid communication channel for your business. And people who call you are not only consumers, leads, and marketing efforts- they're also sources of valuable information. All you need to do is connect your business phone system to some of the services below.
That's why call tracking software and analytics apps vendors are so popular and important.
Table of Contents
Top 10 Call Tracking Software Solutions
Before we start, let's establish one thing: how does call tracking work?
It assigns a unique number to your business and records the location, phone number, duration of the call, a device used to make the call, etc., so you can measure your call performance and optimize it to the max.
Today, we'll look at the top 10 call-tracking software tools and analytics to help you get more insight, improve customer service, and increase sales.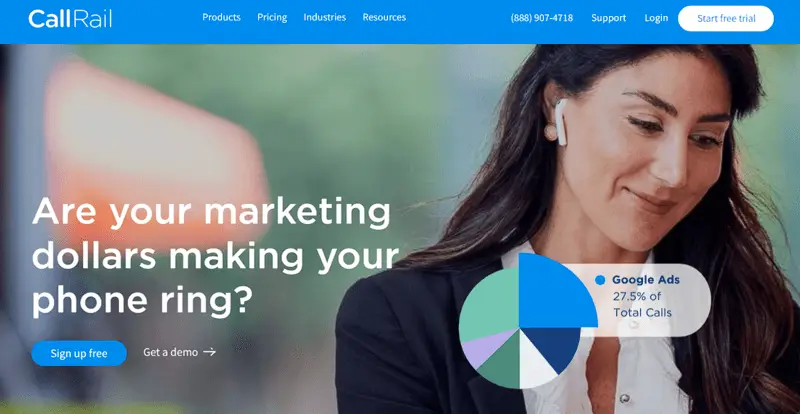 Do you want to track all of the calls, texts, and web form submissions from a single, easy-to-view dashboard? Then CallRail is the perfect tool for you. The software was designed for both lead acquisition and retention.
CallRail allows you to manage and analyze incoming calls. Later, you can use that information to improve customer service, increase lead conversion rates, and track ROI for your marketing campaigns.
Conversation analysis is key in call tracking. CallRail records every incoming and outgoing call and provides real-time analytics, so you'll never miss out on crucial detail.
CallRail's mobile app is available on both iOS / iPhone and Android devices.
What is the Call Tracking Tool Good For?
Identifying marketing strategies for lead generation
Tracking calls, texts, and web form submissions Optimizing customer service
Analyzing ROI of different marketing campaigns
How Much Does it Cost?
The pricing varies depending on your needs. Call tracking packages start at $95/month with 500 local minutes for ten lines.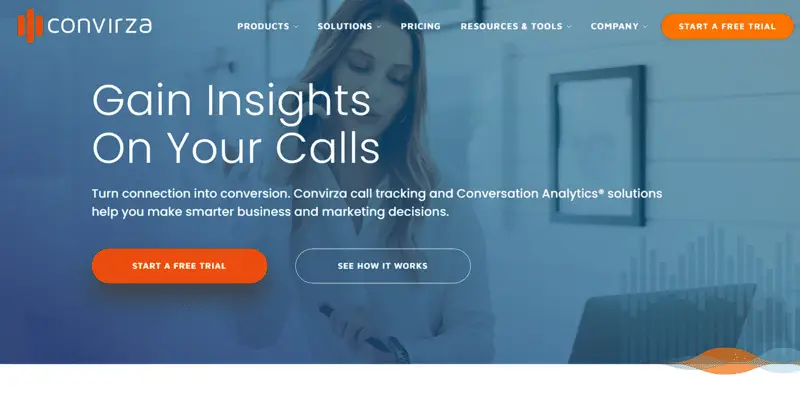 Convirza is an advanced call-tracking tool designed to help you measure the success of your calls. It gives you the ability to monitor calls, analyze them, and automate post-call marketing.
The AI analytics software uses more than 300,000 proprietary algorithms to recognize speech and produce meaningful responses. There's also the Opportunity Assistant, which analyzes word choices and voice inflections to assess what callers are more likely to make purchases.
What is the Call Tracking Software Good For?
Detailed call analytics and reporting
Recognizing selling opportunities and leads
Automating post-call activities
How Much Does it Cost?
The first month's subscription costs $29 and comes with 600 minutes as well as 10 numbers. Professional plans start at $199/month.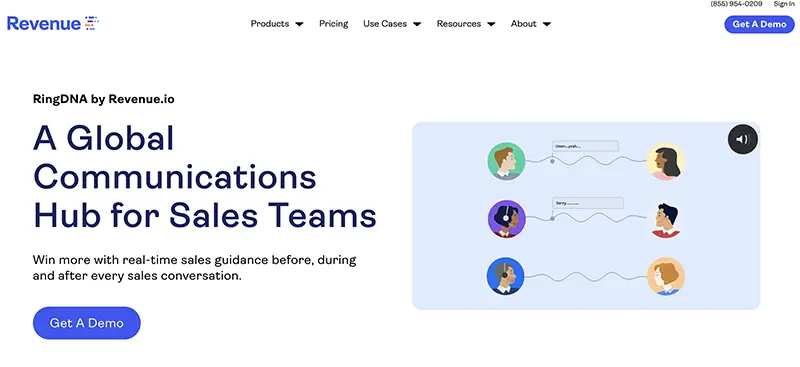 In the next spot on the list, we have RingDNA, a call-tracking software provider that helps companies engage better with customers. Managing and tracking calls are just one of the many features that ringDNA provides.
The same company also offers an inbound call monitoring solution, InboindDNA, which allows you to link phone calls to sales teams. You can then automate post-call activities, such as sending emails and text messages.
RingDNA mobile app is available on both iOS / iPhone and Android devices, and the Google Chrome extension is also available.
What is the Call Tracking App Good For?
Real-time analytics software data for recognizing speech cadences
Track calls, conversions, and success indicators
Monitor inbound phone calls and link them to sales
How Much Does it Cost?
To know the price of RingDNA call tracking solution, you have to contact their sales team.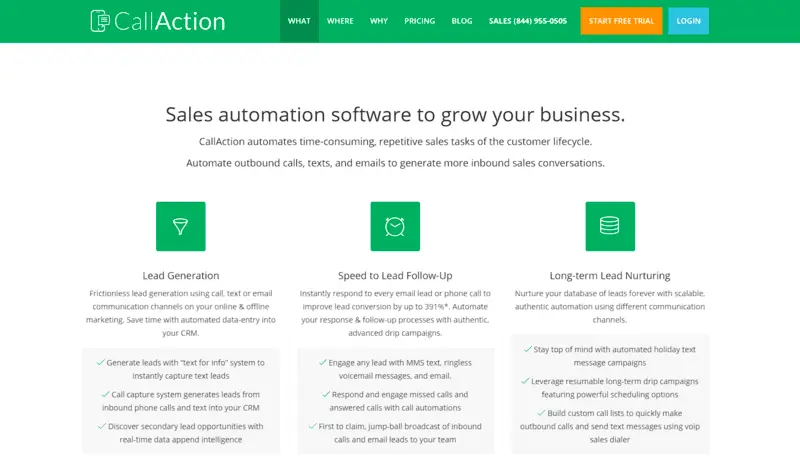 The call tracking software, CallAction, provides insight into your customer's needs and motivations. It helps businesses deal with incoming and outgoing calls.
Users of this call analytics software can track the metrics and ROI of their marketing channels. In addition, the lead engagement feature lets users talk to customers via direct messages and emails.
What's more, the lead creation option can help you with both on and off-site lead generation efforts. The call center software also has a dialer feature for making phone calls faster and more accurately.
CallAction App is a mobile responsive web app; no download for the app store is needed.
What is the Call Tracking Software Good For?
Call tracking metrics and ROI insights
Lead creation for online and offline channels
Lead engagement via direct messages and emails
How Much Does it Cost?
The payment plans start at $115/month for solo users and go all the way up to $2,499/month for group plans.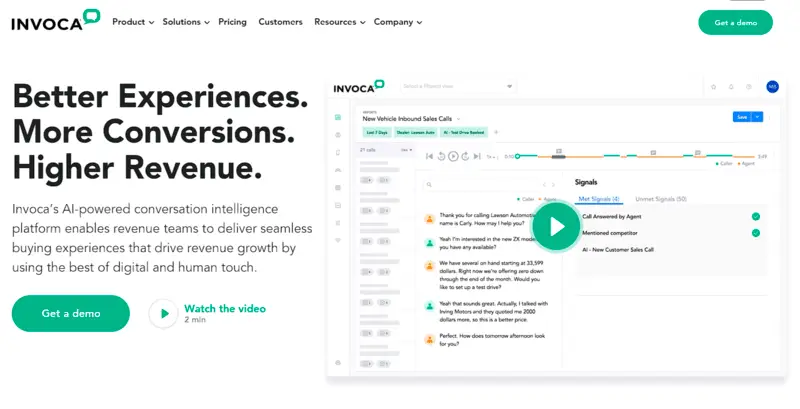 Invoca is a call-tracking software company trusted by huge names like Samsung and Mayo Clinic, which shows the trustworthiness and quality of this provider.
Invoca's call analytics software features enable users to track calls, set up custom call routing, and measure the ROI of campaigns.
Call data you collect can be integrated with your CRM and call analytics software to give you a better understanding of customer behavior.
What is the Call Tracking App Good For?
Showing you how customers find and interact with your business
Allowing you to identify call trends and conversions
Integrating with other platforms to gain insights
How Much Does it Cost?
License fees for the call tracking package start at $1,000/month. Full pricing can be requested from Invoca.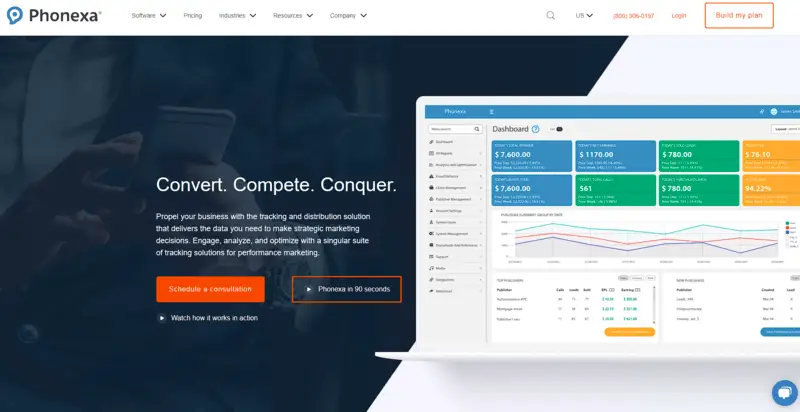 Phonexa is call-tracking software designed to help businesses track inbound calls. As a cloud-based solution, Phonexa can lower the overall costs of business operations and improve customer service.
The analytics software gives you call recordings, digital phone numbers, and operator scoring systems to improve the productivity of your sales team agents.
Collecting all of the data is one thing, but Phonexa allows you to put it all in context with comparison reports. In addition, viewing datasets side-by-side helps you to make better decisions.
You can download Phonexa App on iPhone / Android phones via App Store / Google Play.
What is the Call Tracking Software Good For?
Receiving call recordings and digital phone numbers
Gaining valuable insights into customer call data
Comparing data side-by-side to improve decision-making
How Much Does it Cost?
Phonexa's pricing starts at $100/month and goes up to $500/month. There's also an Enterprise plan for larger businesses. You need to contact their team for pricing details.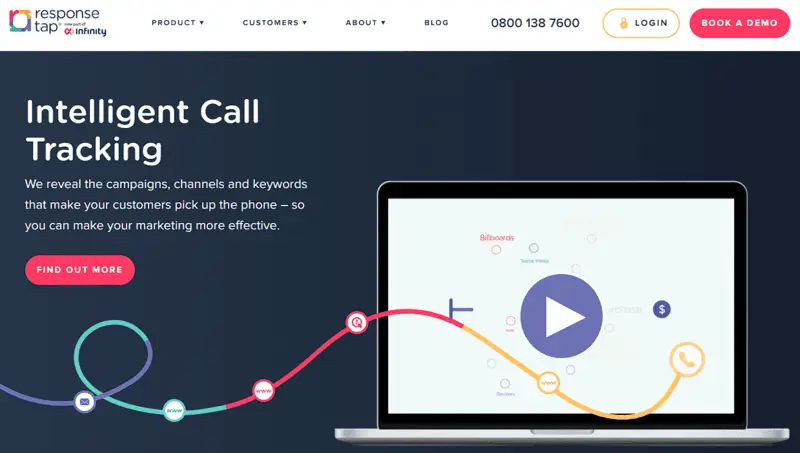 Are you operating a call center? Or are you managing a customer service team for a marketing agency? Then you should consider ResponseTap. It's call-tracking software that helps you collect valuable insights from customer calls and provides deep call analytics.
This software provides detailed call recordings, multi-level IVR reporting, and even call center optimization tools to increase your marketing and sales teams' efficiency.
Linking phone calls with advertising campaigns, enhancing customer relationships, and increasing revenue are all possible with ResponseTap's call analytics software.
What is the Call Tracking Tool Good For?
Collecting call recordings and IVR reporting
Optimizing your marketing campaigns
Improving your call center performance
How Much Does it Cost?
The price of ResponseTap call tracking starts at $200/month, plus call fees. You can receive a quote for a personalized package following an online demonstration or request.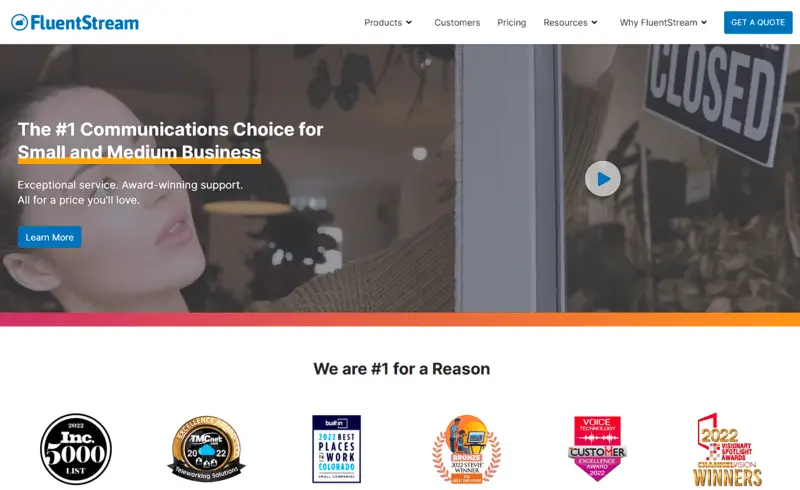 Ideal for SMEs, FluentStream gives options for call recording, call analytics, and customer relationship management. With this cloud-based system, you can access data from anywhere, as long as you have an Internet connection.
FluentStream also provides helpful call analytics tools, like call-recording dashboards and detailed reporting. Voice-to-email capabilities allow you to communicate with clients seamlessly and manage customer relationships better.
Download the FluentStream Mobile App from the Apple or Google App Store.
What is the Call Tracking App Good For?
Providing call recording and analytics capabilities
Delivering voice-to-email features
Managing customer relationships better
How Much Does it Cost?
FluentStream's pricing is based on the number of users; if you want to know more about it, you need to contact the team.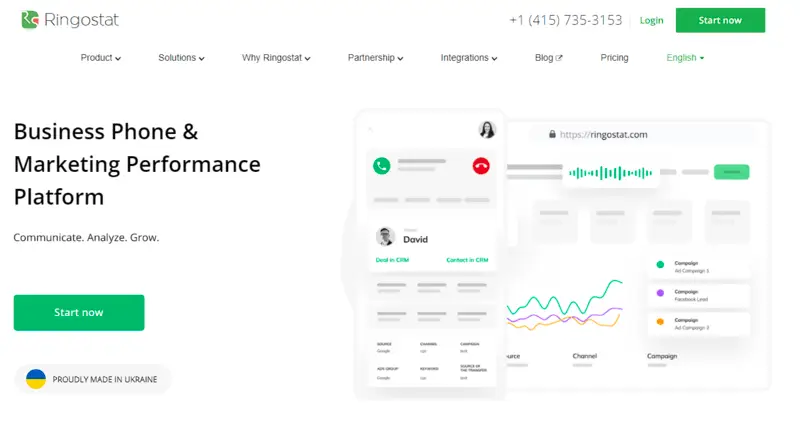 Are you looking for call tracking and analytics software vendors? But you don't think you have enough money for it? Then you need to check Ringostat out. The cost-effective call tracking software features all of the essential functions, plus a few bonus ones.
Ringostat allows you to sync your call details with CMR to save time and money. It also provides multi-channel analytics for better customer service and a detailed call recording dashboard to monitor all of your data more effectively.
Ringostat's Google Chrome Extension is available.
What is the Call Tracking Tool Good For?
Gathering and analyzing call data on a budget
Syncing call details with CMR
Monitoring data with a detailed call recording dashboard
How Much Does it Cost?
The beginner call tracking package starts at $33/month and the professional package is $41/month.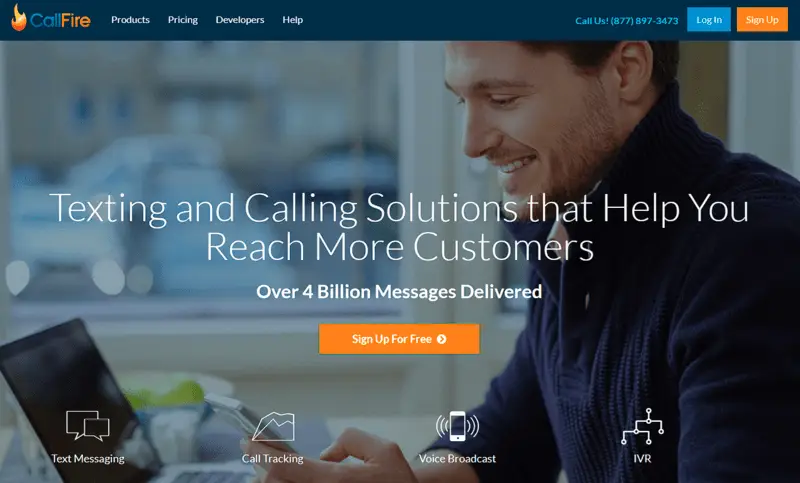 Keeping track of outbound calls and company activity can be a challenge. That's why CallFire offers its call tracking software tailored for businesses of all sizes.
The call-tracking software is perfect for local and international businesses alike. It allows you to purchase several reference numbers from different countries to keep in touch with customers and partners worldwide.
You can connect this cloud-based call center with Google Analytics and Facebook Ads to get detailed customer data.
What is the Call Tracking Software Good For?
Building and managing customer relationships from a simple dashboard
Purchasing reference numbers from different countries
Connecting the call center with Google Analytics and Facebook Ads
How Much Does it Cost?
The price of CallFire doesn't include monthly fees. Charges start at $6/minute and text. If you want to increase the number of minutes and texts, you can try one of the subscriptions, which start at $99/month and end at $599/month.
Start With Call Tracking Today
All the call tracking software discussed above will help you spread the word about your business, score leads, and give you valuable insights. Analyzing call data will improve your customer knowledge and allow you to tailor-make your services according to their needs.
By collecting data, you'll be able to allocate calls to strategic initiatives throughout your company – from customer service to marketing – and increase your sales in the process. So what are you waiting for? Start tracking your calls today!