Podcast enthusiasts, it is time to elevate your recording experience!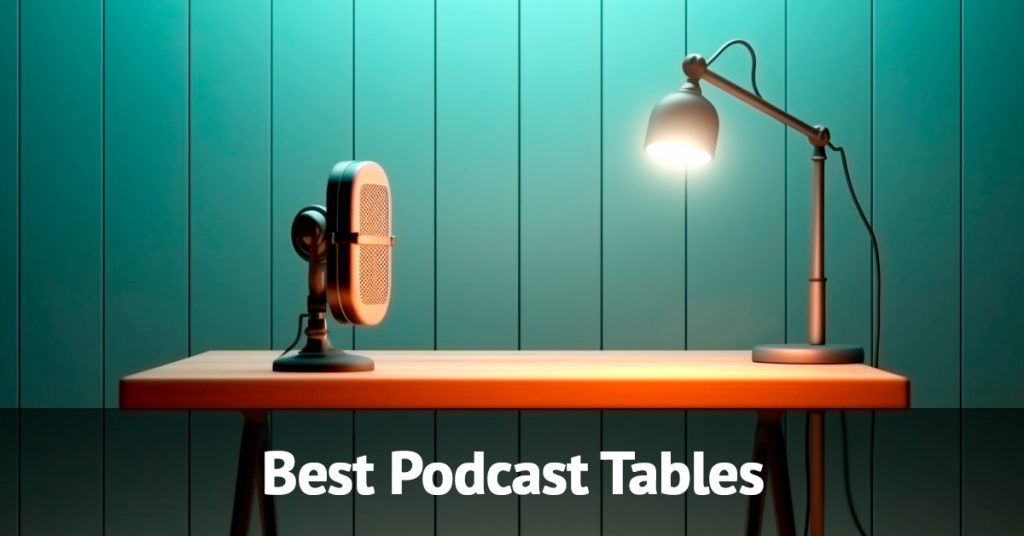 Finding the perfect podcast table can make all the difference in your setup. In this article, we'll explore the top podcast tables on the market, carefully comparing the features, design and functionality.
With our in depth analysis, you'll be well-equipped to choose the ideal table for your podcasting needs. You just need a good place to put on your best podcasting cameras and microphones.
So let's dive into the world of podcast tables and discover the best options available today.
Podcast Table Ideas
Creating a comfortable and functional environment is essential for hosts and guests to engage in captivating discussions. The right podcast table can play a vital role in setting the tone and enhancing the recording experience.
1. Ergonomic Design for Comfort and Accessibility
To ensure a relaxed and productive atmosphere, it is crucial to prioritize the comfort of both hosts and guests.
Consider investing in a podcast table with an ergonomic design that offers adjustable heights and ample legroom. Features like padded armrests and lumbar support can make you feels much better during long recording sessions.
2. Cable Management and Connectivity
Efficient cable management is key to keeping your podcast table clutter-free and organized. Incorporate built-in cable channels or grommets that allow you to route cables neatly and prevent tangling.
Check connecting options such as USB ports or power outlets directly into the table. It provides easy access for charging or linking devices during recordings.
3. Acoustic Treatment Integration
Superior audio quality is a fundamental aspect of any successful podcast. Enhance your recording space by integrating acoustic treatment into the podcast table itself.
This can involve incorporating sound-absorbing materials like foam or fabric into the table's construction. By minimizing echoes and reverberations, this integrated acoustic treatment can result in cleaner and more professional audio.
4. Multi-functional and Versatile Features
Look for tables with adjustable configurations, such as foldable or expandable surfaces, to accommodate varying recording setups and equipment.
Options with built-in storage compartments or shelves keep essential items within reach, making your podcasting process more efficient.
Best Tables for Podcasting
1. ProVoice V6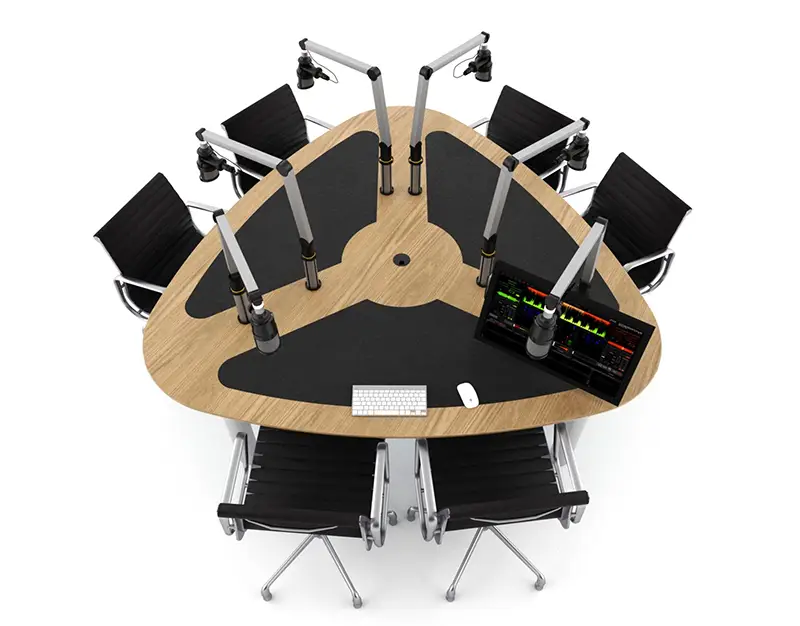 Introducing the ProVoice V6 from AKA Design, a podcast table that has caught the attention of many podcasters with its sleek design and practical features.
This table is crafted with sturdy legs, providing stability and support for your podcasting equipment.
One key aspect of this table is its excellent cable management system, ensuring a clutter free space for podcasters.
The mic placement options are versatile, allowing for optimal audio recording.
With easy access to essential equipment, this table streamlines the podcasting process.
Moreover, it cal accommodate 6 people, which is great if you like having a lot of guests in your podcast.
Pros
Sleek design with sturdy legs for added stability
Efficient cable management to maintain a tidy workspace
Versatile mic placement options for ideal audio recording
Ample workspace, providing room for additional gear
Cons
Slightly larger footprint which may not suit those with limited space
May require professional assembly, as it is not pre-assembled and delivered in parts
With the ProVoice V6, you can create a professional podcast setup that caters to both your aesthetic and functional needs.
2. ProCast R5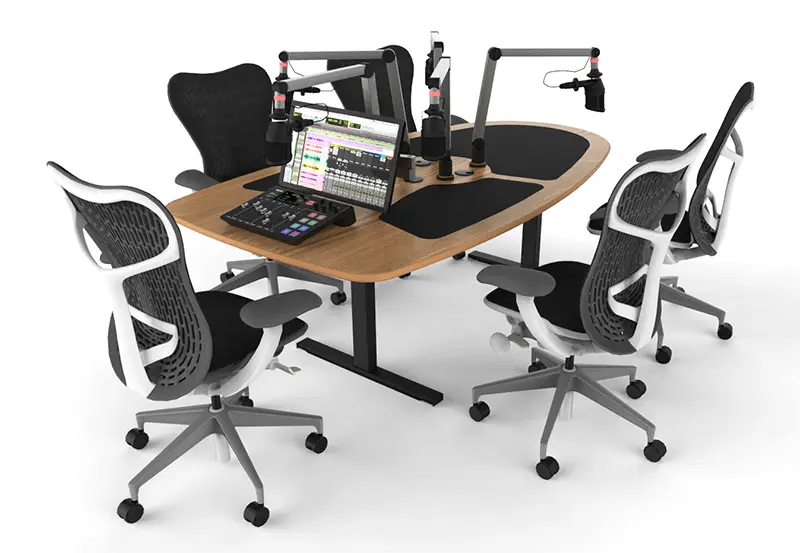 Moving on to AKADesign's ProCast R5, another outstanding podcast table that offers an exceptional blend of style, innovation and functionality.
Engineered for professional podcasters, this table is designed to efficiently utilize the available space while providing ample room for your podcasting equipment.
The ProCast R5 boasts excellent functionality features, including convenient cable management, adjustable mic placement options and built in storage compartments for your accessories..
Additionally, its thoughtful design and ergonomic structure ensure that all needed gear is easily accessible, making your podcasting experience seamless and hassle-free, and more comfortable for those long sessions.
Pros
Stylish and modern design that complements any studio setting
Efficient use of space to accommodate various equipment sizes
Ample room for all your podcasting essentials
Excellent functionality with easy to reach equipment access
Adjustable microphone placement options for optimal audio quality
Cons
Assembly instructions may be unclear, making the setup process more time consuming
Some users may find the table height not adjustable to their preference
With the aka Design's ProCast R5, you can create a sophisticated and organized podcasting environment, ensuring a seamless and enjoyable experience every time you record.
3. Omnirax Podcast 3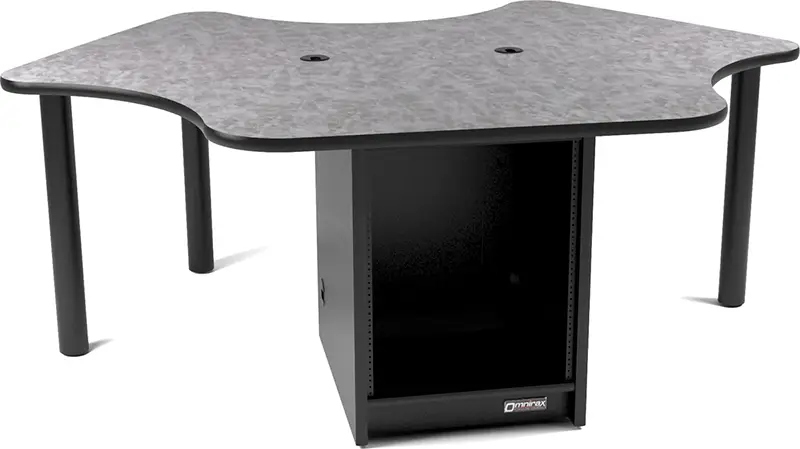 Then, we have the Omnirax Podcast 3, a versatile and efficient podcast table designed to meet the needs of both beginners and seasoned podcasters.
This table offers a combination of style, durability, functionality, and storage space for all your podcast essentials.
The Omnirax Podcast 3 comes with dedicated space for accessories like headphones, USB devices, and microphones.
Its thoughtful design ensures easy access to all your gear, making the podcast recording process more enjoyable and efficient.
Additionally, the table's modular design allows for future expansion, accommodating your podcast's growth over time.
Pros
Versatile design that caters to both beginners and experienced podcasters
Ample storage space for accessories like headphones, microphones, and USB devices
Functionality features such as built in cable management and adjustable microphone placement
Easy access to all essentials for a seamless recording experience
Sturdy construction with a stylish appearance that suits any studio environment
Modular design for future expansion and adaptability.
Cons
May require additional investment in compatible accessories or purchases for optimal use
Some users may find the assembly process to be time consuming or challenging
With the Omnirax Podcast 3, you can gather a well-organized and functional filming workspace, enhancing your overall experience and ensuring a smooth process from start to finish.
Final Word
In conclusion, selecting the perfect podcast table is of utmost importance for creating a seamless and enjoyable filming experience.
Whether you go for the sleek ProVoice V6, the functional AKADesign's ProCast R5, or the versatile Omnirax Podcast 3, each of these tables offers unique features and designs to meet your specific needs.
Consider the pros and cons carefully to find the ideal table that elevates your journey to new heights.